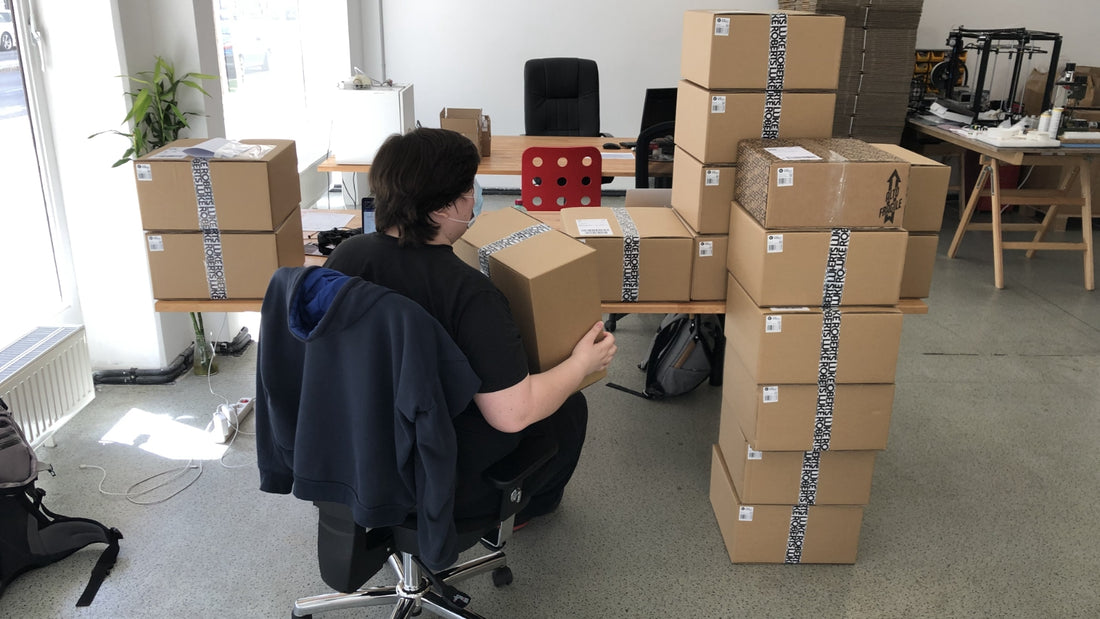 With protective masks and a strong community through the Corona crisis
The Corona crisis and its global impact have significantly changed our daily work. We already felt the first signs of the crisis at the beginning of the year, when the first delays and problems with deliveries from China occurred. Nevertheless, we perceived it as a local and temporary phenomenon on the other side of the world: a health crisis limited to China. We could not comprehend how it would change our familiar normality on both a small and large scale for large parts of the world, including our own.
When the virus came to Italy and shortly afterwards to Austria, we had to act quickly to maintain the performance of all areas from sourcing to distribution. The first step was to switch to home office. This works very well for most of Luke Roberts' employees. The marketing campaigns are now coordinated via video chat, the further development of the floor lamp happens in the living room and customer enquiries are answered at the dining table. However, we are a manufacturing company and therefore we have the problem that production cannot be carried out from home. Here we have quickly procured masks and disinfectants, limited the number of employees who assemble at the same time and pay meticulous attention to the minimum distances. This changeover was initially unusual and not easy for everyone, but is essential for health reasons and has quickly become the norm. Thanks to these measures, we have been able to continue production during the crisis, fulfill all orders without delay and with no compromises to the health of our employees or customers.
The initial restrictions have meant that for a long time now our sales come 100% through online channels. Fortunately, this is also one of our greatest strengths. From the outset, we have always relied heavily on direct contact with our customers. From our point of view it is - especially for a young company with a new product - essential to be very close to the customer. This has already rewarded us with a very successful Kickstarter campaign in 2016 and is now helping us through this crisis. If there are several intermediaries between the manufacturer and customer, information is always lost. We would not directly learn how to make our lamps better and we could not easily communicate new features or products to our enthusiastic customers.
Unfortunately, no one can currently estimate how long the crisis will last. But we are happy that we have found a way to keep our young startup running, not only in emergency situations, but also how to develop it further with a view to the future. New features and products are already in the works and we look forward to introducing them to you soon.